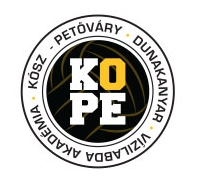 Our club was founded in 2005 by two former waterpolo players named Mr. Zsolt Petőváry (230 international caps, World Championship 3. place, 1988 Olympic Games 4. and 1992 Olympic Games 5. place) and Mr. Zoltán Kósz (220 International caps, 2000 Olympic Games 1. place, 1997 and 1999 European Championship 1. place, 1995 and 1999 FINA World Cup 1. place, 1998 World Championship 2. place)
We are a young and dynamic club near Budapest, in the heart of the Danube Curv – one of the most beautiful places of Hungary. Our main strength is a good mixture of selfmade young (for example Lóránd Hajdu, Gábor Búzás, András Kákonyi) and expirienced middleaged players (Károly Szávai, Norbert Nagy, Daniel Randé). The 2018/19 season is our 4th season in the Hungarian 2nd division and we could get into the first eight best teams, which fact makes us very proud.
We are looking forward participating 3rd Nicosia International Waterplo Cup. This event will be the worthiest closing ceremony of our most succesfull season so far.